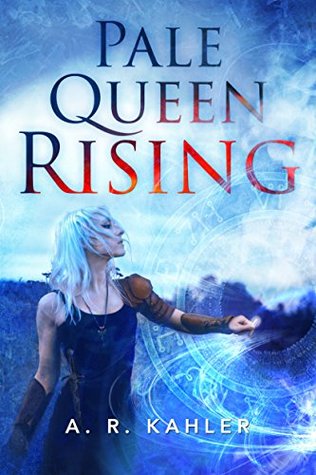 As the royal assassin, Claire is used to moving between the mortal world and the Winter Kingdom. When the queen commands her to kill, Claire does the job and doesn't ask questions. Her deadly skills and loyalty are soon tested when Claire is sent to the Immortal Circus, one of the many places where "Dream" is harvested from the imaginings of mortals. There she must find thAs the royal assassin, Claire is used to moving between the mortal world and the Winter Kingdom. When the queen commands her to kill, Claire does the job and doesn't ask questions. Her deadly skills and loyalty are soon tested when Claire is sent to the Immortal Circus, one of the many places where "Dream" is harvested from the imaginings of mortals. There she must find the culprit who is causing Dream to mysteriously disappear before the Winter Kingdom's supply is depleted enough to threaten its very survival. But when she meets Roxie, a beautiful mortal singer with a strange link to the Dream thieves, Claire quickly recognizes an odd and unexplained connection that may cloud her judgment. As each new clue unveils another secret, Claire finds herself confronting the riddle of her own buried past—and a dangerous illusion that, as part of the Immortal Circus, is just another act in the show....
| | | |
| --- | --- | --- |
| Title | : | pale queen rising |
| Author | : | |
| Rating | : | |
| ISBN | : | 25590133 |
| Format Type | : | Kindle Edition |
| Number of Pages | : | 254 Pages |
| Status | : | Available For Download |
| Last checked | : | 21 Minutes ago! |
---
pale queen rising Reviews
Two solid mehs.The story was decent but characters were cardboard. The main character in particular was bad. She was very Mary Suey and contrived. Her crush on a damsel in distress felt juvenile and tumblrina and edgy for the sake of being edgy. Meh! Her toughness felt much the same. The only truly tasty tidbit was Kingston and he's a bit character.This is on the far juvenile end of young adult, yet the language and sex make it rather inaccessible to the very young, in my opinion. I'm not sure where the author was trying to go with this but I think they've missed the mark by a wide margin.

*Book source ~ Kindle FirstClaire is a royal assassin to Mab the Winter Queen of Fairy. While Claire herself is human, she's been trained by a sadistic Fae, so she's very good at what she does. When the supply of Dream is interrupted, Mab sends Claire to find out why and take out whoever is doing it. However, Claire is no investigator; she's a weapon. However, she does her best to figure it all out before Dream runs out and the Pale Queen rises.There's not a lot of substance to this story. Claire is kinda unlikeable. And wooden. All she talks about is how badass she is yet I saw very little badassery going on. The plot is shaky, the villains questionable, and the characters flat. The beginning isn't very forthcoming when it comes to world building so I was lost for a good portion of this tale. I think this could have been a great story, but the writing is just blah. I'm highly underwhelmed and have zero desire to continue with this series.

"It's funny. Kids in the real world think monsters come from the closet or under the bed. Which I suppose is true. Mostly. But the fact is, monsters can come from anywhere with a flat surface. We just need a door, and if it's a flat plane, it can be a door. Chew on that the next time you're reading a book about demonic possession. Pages are flat planes, too."I received Pale Queen Rising as part of Amazon's Kindle First program. I was truly excited, because Fantasy novels have been missing from the Kindle First line up the last couple of months. I jumped straight in to reading Pale Queen Rising and I don't regret that it was my pick for Kindle First this month.I wavered between enjoying the main character, Claire, and finding myself put off by her completely amoral personality. In some ways, it made her a completely open and honest individual, but at other times, it made her completely off-putting (like the scene at the circus). However, by the end of the book, she had developed into more than just the assassin that likes sex with no strings and killing things; by the end of the book, Kahler had built Claire into someone you could feel empathy towards. Also, can I just say that Claire's propensity for heading straight to the bath tub to soak any time she was mad/sad/frustrated/disappointed/upset/etc was very endearing to someone who does the same thing? It makes it a lot easier to connect with a character in a story when you can see even small bits of yourself in them. Two things that frustrated me about this book; I still don't really understand the concept of "Dream" very well. As best as I can figure out, they take humans imaginings and feed off of them? But it's still a concept I struggle with really understanding. Second, I'm not entirely certain what the state of the world is when this story is taking place. Does everyone know about faeries and magic? Or is the world similar to todays, and the magic and fairies and witches happen and you only know about it when your paths intersect? I didn't get the impression that this was some sort of dystopian world, where the fairies have taken over (I just finished reading Jonathan Moeller's The Cloak Thief, which is actually a dystopian novel where fairies have taken over and now rule Earth), but I can't tell for certain because Kahler doesn't really address much outside of the Fairy world. I did really enjoy this book – Kahler is a phenomenal writer who's descriptions are vivid and on point, drawing you into the story and leaving you fascinated and wanting more, even in the darkest points of the book. I look forward to reading book 2 and the revelations we know are coming.***UPDATE 6/14/2016***Ok, so I finally had a chance to read The Immortal Circus series, which is the series before this one who's existence I was completely unaware of when reading Pale Queen Rising. Suddenly, EVERYTHING makes SO much more sense. Dream is explained in much more depth in The Immortal Circus series, and the world outside of Faerie also makes more sense. Many of the questions/issues that I had with Pale Queen Rising were resolved by reading the first series, as some other readers thankfully pointed out for me. It did change my view of the book slightly, as some of the characters that carried over from The Immortal Circus were a little different in the Pale Queen series. My rating of the book still remains the same, however.For anyone reading this review and contemplating reading the Pale Queen series, while it does somewhat function as a standalone series, it really doesn't. There are a lot of concepts and nuances that won't make any sense without reading The Immortal Circus series first.

I received a free copy through Goodreads First Reads giveaways. I just couldn't get into this book. It did seem to get a little more interesting towards the end, but it was too little, too late. Most importantly, I found myself wondering why I should give a damn about the main character Claire. I just wasn't interested in the mystery of who was stealing the Dream, where she came from or whether or not she would reunite with her real mother. She's not a likable character,so why would I care what happens to her? Therefore, I doubt I will read the sequel to this book.

What a delightfully debauched, booze-soaked, murderous fairy romp. I really (LIKE REALLY) enjoyed PQR, primarily because it's a book I would've liked to write. That said, I understand other reviewers' criticisms. The plot did meander a bit when I really wanted it to heat up (hence four stars, but hopefully the sequel will hit five). But I didn't mind the waffling because every tangent was a glut of magical diversions... Crystalline winter-realm-denizen's bar! Enchanted weapons to the teeth! Snarky demonic companion! (view spoiler)[Circus tent sex party! (hide spoiler)]The only weak point for me was Roxie. Really didn't understand her allure besides the physical to Claire, who was such a wonderfully self-possessed character. Other than that: I love everyone in this bar. Eagerly awaiting book two and reading The Immortal Circus in the meantime to maybe uncover some missing pieces.

7% in, I realized I didn't care. The story of a mortal in the court of Queen Mab seems to be overdone considering I just read it in The Iron Fey. I feel like I should be connecting with the main character and I'm not at all. Meh.

I slogged through this, and just as it started to get interesting it ended. I realize this is part of a series, but really?

I moved this to my "Read" folder just to get it out of my "Currently Reading" folder. I created a new folder just for this book, "Not Good Enough To Finish." There, that's my review.

Let me start off by stating that I have not read anything by A.R. Kahler nor have I heard of him before. I went into Pale Queen Rising with no knowledge of his previous related work, The Immortal Circus: Act One. I have a soft spot for YA targeted books about faeries, magic and "things mortals are too, well mortal, to see." So this book was right up my alley. I got it as a monthly freebie for being an Amazon Prime member, though I would have probably picked it up to read sometime in the future.I really found myself enjoying the story and the many characters that are constantly being introduced. I wanted to know about Claire's past probably more than she did. I wanted the author to go into more detail about the Winter Palace and Mab. It did take me a while to get into the story but once the author introduced the mysterious "Immortal Circus," I was hooked.The book is a quick weekend read. The story is basic and predictable but it has enough plot twists to keep you interested. It pulls you in enough to warrant a sequel. The characters are as complex as they're trying to be and most of them seem to come off as dicks. But I liked them all the same.I loved Claire. Sure, she can get annoying with her kill and sex attitude but she grows on you. Claire's main objective in life is doing the bidding of the Winter Faerie Queen, which usually consists of killing... seeing as Claire is an assassin. When she is ordered to find and kill whoever is stealing the dreams of humans (the food of the Faeries), Claire begins to reveal more of herself as a mortal and uncover the secrets of her past. She starts to grow and becomes more "human" and likable. It's a daily struggle for her being human and living in a world where humans are considered nothing more than playthings (and food). There are still questions I have as to what dreams are, the mortal world, and the Oracle, but I'm waiting for the next books before I start feeling frustrated about it.Would I recommend it? Most definitely. It's short, quick and sweet.Was it unique and amazing? No, but A.R. Kahler is quite talented in creating a captivating and descriptive world.This is not everyone's type of book. Honestly, if you like supernatural stories with faeries, do yourself a favor and read it.If not, then skip it. It's as simple as that.

Pale Queen Rising is an interesting story, but not very well executed. I had trouble relating to Claire, the sexy assassin, who's narration and dialogue often came across as juvenile. Rather than letting the story unfold naturally through descriptions, the reader is often fed information through Claire's cursory explanations of, "Oh, by the way..." and "Yeah, that..." It felt very blasé and took away from what could have been a well told story. In fact, if it weren't for some of the subject matter, I would have thought the story was written towards a much younger audience.I found the concept of the crossover between fairy and human worlds interesting, but again, I feel that it could have been handled better. The author often gave brief explanations of the mythos of these magical realms without really going in depth about how and why things were a certain way. I learned half way through my reading that this is actually a spin off from another series by the author, so maybe these details can be found in other novels. However, I was left somewhat in the dark, as I'm sure other first time readers of this author were as well.Overall, I thought the story was interesting, but because of the delivery, I was unable to fully connect with the heroine and her motivations.

I sit here wondering just how to write a review for this book that won't get me sued!Have you ever read a book that in less than 24 hour's you've forgotten most of it? That about the only thing you can remember is that the main character is an ass-hat -a supposed kick-ass heroine that is anything but kick-ass? For the life of me I can't even remember if she actually ever really raised a hand. I think all she actually did was talk smack, threaten people and be the worse cliched character I have ever read.The plot wasn't even all that great and it was a tiny bit obvious to this reader (and "tiny" was a wee exaggeration)You want an actual adult read about the Fae? Then read Laurell Hamilton's Merry Gentry series -yes you will want to throw the books against the wall for her usage (over-usage---way way overused !)of the word "spill" in all of its forms! But at least you won't be treated like you are brain-dead.The other thing that I took great issue with, was the fact that this author seemed to have taken a character or the idea of this character from another author. Yes there are a lot of magic wielding, big mouthed, female lead characters lately-but this seemed overly obvious to me.I HATED Claire.Oh well, can't love 'em all!

Not sure what I thought about this book. I almost dropped it completely at the beginning because of how boring I found the main character, Claire. She was cocky, annoying, and full of fantasy cliches on far too many levels. However, I was stuck in many queued lines today with nothing to do and decided to continue on and actually finished the book.Overall I found it to be a pretty standard urban fantasy with characters that weren't very well fleshed out and plot twists that were pretty obvious. As the story moved forward Claire became a little less roll-your-eyes ridiculous and the author seemed to warm up to his voice a bit better. I don't think I'll continue on with this series but I can say it isn't as bad as I originally thought which was a happy surprise. It is a decent, quick read that I would almost put at the YA level for simplistic writing style if not for the whole assassin thing and perhaps toe-dipping into some slightly sexier scenes. Still, I was entertained in the end so I can't complain too much.

I got this as a kindle first book forever ago, but decided to read the immortal circus series first (by accident, but I'm glad I did since this book goes with that, kind of) and this one just didn't capture my attention like the first series. It was still good, just not what I expected after the first series.

This was an OK read for me. I felt like the story was a bit disjointed at times, probably because I felt like I was missing something, having not read the the Immortal circus series (will probably go back and try those). The abrupt ending also irritated me (there wasn't any resolution to the story).

I got this on KindleFirst through Amazon Prime, which nifty little program has sent me a lot of fun things in the past couple of years. Unfortunately, I just couldn't bring myself to care about this protagonist one teensy-tiny bit, nor did I find the world particularly interesting.

ExcitingThis is a great page turner...wondering what is going to happen next and where everything leads up to. Glad I took the chance to pick this one up.

A farie taleWeaves common myths about varies into theModern world with a mystery to resolve.. Interesting characters if a bit light on interaction

TEN OUT OF TEN ⭐ I went into this book with low expectations, I've never been one for Fantasy at all. Recently, I've been easing into that genre and I am beginning to love it. Early on you begin to understand the purpose of the plot, but you still don't quite know where it's going to lead you. I found myself wondering if everything was going to unravel in one big boom, or if it would slide into the ending throughout the chapters.A.R Kahler flowed into the topic of homosexuality very freely, and it didn't feel forced at all. He wrote it carefully and casually. I also enjoyed how he incorporated parts of his own life in the story; aka the whole circus dealio. It was an easy read and I was surely hooked by the very first page. Claire is without any doubt a badass and I freaking loved her character from the beginning. She's fierce and doesn't let anyone walk all over her. She grew up with her mother beating "you cannot be useless" into her thoughts. Claire wasn't really in touch with her feelings and didn't want anything to do with emotional attachment throughout this book. This really shaped her characters personality. Claire's mother Mab, also told her friendship makes you weak. Don't trust people, and Emotional Attachment is for the useless. She was always being used as a tool for her mother, always had to do the dirty work. As a female assassin which isn't easy to pull off in fiction (in my opinion) A.R Kahler wrote her perfectly, I couldn't find a flaw in her well being at all. I can't say a whole lot without regarding spoilers, but as a male writing female lead you are friggin' great A.R. Mab (Claire's Mother) I didn't hate her, but I wanted to SO BAD! I just often wished she wasn't so closed off and didn't tell Claire she was replaceable along with everyone else. She was greatly egotistical (what more should I expect from a Queen though). Mab taught Claire to always rely on herself and don't trust easily. Which I think made Claire better off, so I do admire her for that, but as a mother she was never really there.Eli (Claire's Right Hand Man) cracked me up, he was always teasing Claire, and getting on her last nerve but he was always doing the work she needed him to do. His powers regularly outranked Claire's because he was a Fey and she was a mortal, but Claire always led. She was written as not a big fan of him and you could feel the frustration, but I think deep down she saw him as a good acquaintance. Kingston (The Magician) GAHHH! I freakin' loved and resented Kingston off and on so much. He was very appealing and sexy, confident and just ugh delicious. But his cockiness was overwhelming at times, he just seemed off in parts (can't say why..because spoilers). He reminded me of the older brother type towards Claire even though they had romantic moments. (that sounds so strange like incest-y but they're not related!!! AH) You can't help but fall under his spell, he was so full of attraction. and Just....yeah he was great.Roxie YOU PLAYED ME THATS ALL I HAVE TO SAY. *Side note*Claire's bath moments, just her and her alcohol....Were literal goals, just the bubbles, honestly those scenes were every girls dream I swear.The ending left me with closure but also questioning. Everything finished off nicely while leaving enough wonder for the next book. This book exceeded all expectations and I loved it greatly. I will definitely be reading the next on of the Pale Queen series.Notable Quotes"I inhale deeply, and it's not just the scent of espresso and cheap cologne that washes over my taste buts, but secrets..""I stare at myself in that light, tracing the scars that line my body like scores to lost music...""I passed over my usual work attire for a slightly more revealing purple bra under a sheer T-Shirt and skinny jeans combo. I can still kick ass in it, but it makes my ass so much perkier!""Monsters can come from anywhere with a flat surface. We just need a door, and if it's a flat plane, it can be a door. Chew on that the next time you're reading a book about demonic possession. Pages are flat planes, too.""Dream has this feel to it, almost a scent- it's like the tingle right before a lightning storm, that scent of rain and electricity.""Is it wrong that that seems kind of romantic, us both being humans who bleed the same color? It's funny the things you take for granted when you live among the Fey.""He's clearly the lead ballerina or whatever they call it in modern dance foo-foo land-""I'm not some damsel in distress that needs to be saved by you, and I'm not the same easy little girl you can win over with a nice ass and wit.""You are a weapon. And you will stop feeling sorry for yourself and do what weapons do: You will kill. You will kill until the pain of your enemy mirrors your own."I will be in a corner hugging this book for a while.And I'm Out..-Ash

Admittedly, I binge read Immortal Circus a few years back and loved it. Ever since I've stalked A.R. Kahler and have waited for some news reads to grab up. I did, and for a while, these sat in my kindle/audible account until I sat down to craft. Lo! I have finished Pale Queen Rising, the first in a new series and for those familiar or not with Kahler, this series takes place after the Immortal Circus. If you're not familiar with the story you may want to pick up the prior trilogy, why? Because a lot of questions that may arise are answered in that book. While it isn't absolutely necessary, I do sincerely encourage you to pick up the prior series, because this book doesn't explain [in depth,] the key things you may need to know. Onward! Claire is the Queen's assassin and happens to be her adopted daughter, but for this book, she seems to be more of her P.I. more than anything. Someone is stealing dreams from the winter and summer court and Mab as well as her brother, Oberon, are becoming upset. Mab sends Claire out to investigate and is led to the Immortal Circus, which sparks some interesting interactions. For those of you who ARE familiar with the prior series, we meet Kingston again, the magician and now ringleader of the circus. Melody is back, too. And with the visit to the circus brings back some unbidden memories that are supposed to be locked away. I found Claire to be a touch too abrasive for me which prohibited me from connecting with her and because it mostly focuses on her as the mystery of who is stealing the dream, who the pale queen is or where she resides, I wasn't as invested as I thought I should have been. That coupled with the vague detail in regard to the plot and the happenings, I just wasn't connected with this story as much as I wanted. However, I was interested in the idea. That being said I will definitely be reading the rest of the series because it is fairly intriguing. - Website - Facebook - Instagram -BookTube -

Claire is the royal assassin for the Faerie Queen. She is mortal, but lives in a mystical land of perpetual winter. She kills people who threaten the Faerie Queen's domain. Not ordinary people, either. We're talking witches, warlocks, shapeshifters, and the like.Claire is a great character. She's strong and smart-assed. She goes into danger with courage and fights with ferocity -- we're talking about a professional assassin, after all. Her voice is full of sarcasm and modern idioms that makes a great contrast to all the mystical, metaphysical aspects of the story."I'd hate to have a drunken teenager accidentally summon something. And by hate I mean would hate to miss seeing it."But as strong and prickly as Claire is, at times she seems to barely keep it together. That vulnerability makes her particularly relatable as a character. Her mission in this book leads her toward secrets from her own past and our emotional engagement with Claire helps us engage with the plot that much more.The mythology of this novel is delightful. This world of Faerie Magic is rich and textured. Moreover it is presented to us with enough skill that you never feel like the story is being interrupted for a lecture from Faerie Politics 101.The coin of the realm in Faerie is Dream. The dreams of mortals are a source of power and food and currency all rolled into one."Dream has this feel to it, almost a scent -- it's like the tingle right before a lightning storm, that scent of rain and electricity."When supplies of Dream run short, Claire is sent out to find who is stealing from the Faerie Queen. And there the story begins. Unfortunately the end of the story is harder to locate. This book is the first in a series and feels very much like the beginning of a story, rather than a story on its own.It does, however, show great promise for exciting adventures to come.Rating: 4.5 starsLength: 90,000 wordsViolence: Pretty RoughSex: Discussed. Not DepictedDrugs: Alcohol Abuse and "Dream"

I got this years ago as a free Kindle First Book, many of the reviews recommend reading the related Immortal Circus series first, but this was free so that's where I started. I believe these two facts are the most telling: 1. I read it in roughly 24 hours, and 2. I have spent roughly the past hour trying to decide if I care enough to spend the $3 to buy the second book in the series.It was an interesting premise, I enjoyed the structure of the series' universe, and it was interesting enough throughout to hold my attention and be a quick read. However, the entire Roxie storyline was annoying and felt forced and problematic for Claire's character. It seemed as though that entire romance line could have been taken out and the plot wouldn't miss it, and neither would Claire's character development. Generally well written, only one description bothered me enough to stop the story. The end just kind of told you that it was finally time to reveal some backstory and then ended. I get it, it's book one of a series and you need to get us to buy the second, that's just how it is. It left me curious but only to the point where if someone just told me the plot points I might not read further.

3.5 starsAn original story with fun elements, a no-bullshit MC and a yummy demon sidekick Eli. Not surprisingly the character I never fully trusted from the beginning turned out to have mischief up their sleeve; other than that I liked the twist and turns the story took. I liked everything about this book though (except for that character). I normally can't stand Amy McFadden as a narrator but she did well here and she did a good job giving each character a different voice/accent. Will be continuing the series via audiobook thanks to Kindle Unlimited.

I honestly can't tell how I feel At times, the story seemed fascinating. Others, I was constantly going WTF? While the cliffhanger was honestly one of the best I've come across the rest of the book completely turned me off. And really, the thing with Roxie and Claire was so much queer baiting, I want to gag. So two stars for the interesting ending and some of the world building but even giving this rating is a reach for me.

She immortalThe story line is good but WAY too much grey area. Don't know much of anything, you keep reading because your hoping you will find something out, just to realize there is more to read. Good book but not my kind of book.

not my type of bookJust a little to much, I do enjoy a good fantasy, but not this type. I read the Immortal Circus and have no idea why I chose this book. Didn't care for it

Love theseif you're into the super natural this series will ensnare your mind. Coming off the immortal circus, these last three give you the closure you'll beg for

I'm in love with fae courts, but much less with modern fae courts. Also I like brutal court intrigue, but the court in this book was empty and quickly becoming less. Anyway, Claire is tasked with solving the mystery of where "Dream" is coming from, and she's not…. the best detective in either realm. She gets her info by bullying and coercion and threats, and while she keeps mentioning how it usually always works, it fails in every instance she tries it in the story. The thing is, I personally don't think bullying and coercion and threats work every time? So either Claire has not had as much success as she thinks, or she's super inexperienced and certainly way too inexperienced to have the weight of the Winter Kingdom resting on her shoulders. (Side note: Claire thinks it is, and Mab insists its important, but I think Mab is super manipulative and lets Claire think that b/c its what motivates her. I think Mab has more control over things and has more than one pawn operating on this issue.)Her demon sidekick Eli is alright. Scary in all the appropriate demon ways. But the way Claire's disdain, respect, fear, and control over him flippity flop so much its hard to understand why she needs him at all. His "demonic muscle" comes in handy sure, but I think he just serves to demonstrate more of Claire's inexperience in doing anything at all like this mission she's sent on.Kingston is suppose to be sexy but…. He's super creepy? And I don't know if its just because he's being seen through the lense of Claire (who doesn't shut up about how sexy he is) but he tricks and half-truths, and then sleeps with Claire with ulterior motives.And Roxie is kind of easy to see through. For all her making Claire second guess herself and her mortal/human feelings and blah blah blah all that character development. There's something glaringly off about her from the beginning, and again Claire not seeing it, not until its too late, just goes to more of her inexperience?The most compelling characters for me in this book are barely secondary. Melody, the shapeshifter at the Cirque and the fortune teller, Lilith. Also Pan the statue that's the closest thing to a friend Claire has. Not even Mab is all that interesting, in all her cold fury and heartless ruling.I know it sounds like I didn't like this book, but I did! The characters might have appealed to me more if I were in my early twenties, I could imagine falling in love with them all back then. (But bombshell blonde chicks who kick ass I'm kind of over at this point in my life.) I like the mysteries! Who's pulling Dream illegally? Who are all these people making Faerie deals with? Who is the Pale Queen? Who is Claire's mother? Why doesn't Mab want Claire to know about her mortal/human family? (And the even more minor questions of Why is Melody aging differently? What is Pan secretive about? And the tinker guy, William I think, there's a story there too, with his little bird that he'll only trust to Claire once its done? What does THAT mean????) Its just a shame Claire doesn't have the investigation skills to put together clues, or to convey those clues to the reader either.I like the world building as well. Summer and Winter fighting over Dream and territory and their kingdoms separated and the Wildness "between" them and all that entangling with the mortal/human realm and world. I could do without demons, they are my least favorite thing ever, but I guess they work.Claire's character development is like whiplash, but its understandable with the abuse and everything she's dealt with growing up as Mab's "daughter." The Fairie Queen isn't any kind of good mother. Its very hard to like Mab, and that's probably why I still like Claire (despite everything) because of the little comments she drops about growing up and all the things she had to endure in her "training." (I will note though I got tired of other character's asking Claire "Haven't you ever thought about being human and why you're here?" and her having the same answer "No." and the same thoughts of "never had." But I can forgive that because as is evidenced toward the end, anytime she asked or had thoughts about it, Mab made sure to demonstrate how futile and pointless and dangerous it was to do so.)The ending was a surprise just because I thought I had more book to read, and I didn't realize there was a sequel. I was looking forward to more answers, and it kind of feels like we got one solid answer that's on the verge of revealing everything, but then it stops abruptly. It works as a cliffhanger though, because the sequel will be on my list. Its hard to pinpoint who would like this book, except like I said: My younger self and maybe some of my younger self's friends.I got this book for free at Jet City Comic Con. *\o/**Edit* I wanted to add that through this whole book we still don't know who the Pale Queen is. And I just kind of want it to be Claire. Somehow. Lol.

It was a long chapter bookThis is the story of a human, raised and living, in a fairy world of magic. Well written with loads of action and imagery, it was disappointing at the end. There is a book 2 --- sure, but book 1 didn't really resolve anything. It was Part 1

A drawback to modern urban fantasy novels is the author mistaking sarcasm with just plain smartass. In the first few pages of Pale Queen Rising we meet Claire, the top assassin for the Winter Queen, as she threatens and interrogates a victim. Her inner voice and snarky dialogue comes across as immature and, from an assassin point of view, completely unintimidating. Just those first few pages almost made me chuck the book into the DNF bin. But, I held on. It was a good move on my part.Despite the weak beginning and after starting on the wrong foot, the book improves exponentially. Either I grew accustomed to Claire, the main character, or the narrative improved. A mortal raised in the Winter Kingdom by Queen Mab, Claire is trying to discover who is syphoning off the "Dream" that fuels the citizens of Winter and the Summer kingdoms. A byproduct of happy mortal thoughts, Dream is equally and tentatively shared by the two, but the unknown third party is endangering their treaty.The world building is solid as the author already established it in his earlier trilogy, The Immortal Circus. The magic of the fae, the demons, the witches, and the mortals who learn from them is, well, magical. The beasts are fantastic. And I absolutely love the demon Eli. Claire, while not touchy-feely, is compelling. Between her anger, her sense of loss concerning her real mother, her compulsion for killing, and her love of good bourbon and a hot bath, I did grow to like her. While I have not read the trilogy that precedes this new series I understand it is not truly necessary. I quickly read some the synopses of those books to see if it would affect my experience. There are characters that dwell in both trilogies. And despite the cliffhanger ending of Pale Queen Rising that does stem from the Circus Trilogy, I do not feel compelled to read it. One thing I did notice is that in most of the reviews concerning the final book of The Immortal Circus the readers were angered by the ending. Some were furious. They felt too many questions were left unanswered. This must be the "rest of the story" the readers were begging for. So, despite the rocky beginning, I know I will continue this series.