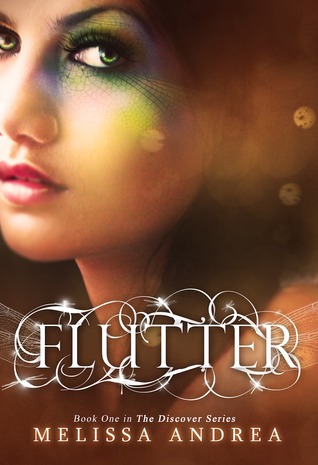 SaraSara's life is forever changed - Waking up, buried & hidden deeply in the last place anyone would want to be, will do that. She is determined to find out how she ended up there & why, but when the only person who can help her, continuously lies to her, she finds herself forced to suffer alone. She can't ignore the strange things that begin to happen to her norSaraSara's life is forever changed - Waking up, buried & hidden deeply in the last place anyone would want to be, will do that. She is determined to find out how she ended up there & why, but when the only person who can help her, continuously lies to her, she finds herself forced to suffer alone. She can't ignore the strange things that begin to happen to her nor can she hide from the nightmares that haunt her sleep. And when her world collides with Adan - the mysterious boy whom she can't seem to stay away from, literally - she is consumed by the familiar flutter that sparks whenever he is around and she is desperate to discover the reason why.But the biggest discovery will come from the secret of what she is…AdanAdan's mission to find Sara has finally approached - It seemed simple: bring her back to the enchanted world that lives, breathes and survives because of her, but he quickly finds himself faced with an entirely new challenge. Immediately, Adan realizes that staying unknown to Sara is a task he will fail before even attempting. The pull to her is far too strong to refuse, and being with her will defy the very reason he existed. He was the key to her survival and loving her was not part of the plan that he had been born to follow. Can he find it in himself too resist the urge to be with her and follow through with their destiny or will he destroy everything that had been left to Sara to protect and defend -And the kingdom she is unaware she rules…FlutterAs Sara and Adan struggle to overcome their own separate battles - There is a far more determined evil that is stalking the shadows and waiting to annihilate them both. Sara will figure out that not everything is what it seems and knowing what she can and can not trust will be the key to finding out the truth to what happened to her, the reason why she had been buried alive and who she really is…Sara and Adan will discover the hidden meaning to why she was the reason he existed and why he would be the reason she survived & together they will fight to change the rules and rewrite their fate.Discover the Meaning, Discover the Secret,Discover FlutterOctober 30, 2012...
| | | |
| --- | --- | --- |
| Title | : | flutter |
| Author | : | |
| Rating | : | |
| ISBN | : | 15771912 |
| Format Type | : | Kindle Edition |
| Number of Pages | : | 376 Pages |
| Status | : | Available For Download |
| Last checked | : | 21 Minutes ago! |
---
flutter Reviews
*******PLEASE NOTE******** This version of Flutter is NO LONGER available! Flutter has been changed and somewhat re-written along with being completely edited. Thank you!

SO good!Two words. Adan Delacruz. That's all you need to know. He was my main enjoyment in the book. He was cocky, but it was in a way that was endearing and sexy, not irritating. You could tell he cared for Sara insane amounts. I thoroughly enjoyed their banter and loved when they finally got together. The paranormal aspects of the book were very entertaining and different. I never had times where I knew exactly what was going to happen. And then the end came. Hopefully book two will come soon because the end broke my heart! Overall, I laughed and swooned and even cried at one point. Melissa's wording is spot on when it comes to emotion.I recommend! Go read.

seen this cover today.. looks pretty great:[image error]

Discover the Meaning, Discover the Secret,Discover FlutterWhat can I say?NOT what I expected. Not in the LEAST what I expected.Not that I know what I expected but it sure as hell wasn't this.Flutter was...I don't even know what to say. It was amazing.It was like being tossed into darkness and falling towards light and knowing it was dangerous but doing it anyway.Flutter is a story of a Princess by blood and character who faces what she has to and fights even when she doesn't understand anything... It's the story of undeniable love that, though forbidden, but cannot be fought or denied.First impressions are the best impressions. That's why the beginning of a book is always VERY important for the book (just like the ending) 'cos it breaks or makes a book.For me? I don't think I've read a better Prologue.I LOVED the Prologue and it's what made me so curious my eyes were glued to the words.Sara.She's a strong and determined female lead that you don't find a lot. You can notice how much she fights and how less she complains. Oh. And I LOVE that she doesn't cheat. Thinking of a another guy is one thing, but acting on those thoughts is bad, a VERY big no-no on my list. Just had to mention that, 'cos I hate it when female leads cheat.Anyway, Sara wakes up in an ice coffin and a sexy voice that makes her swoon and her body to ignite with flutters that she can neither deny nor explain.When she gets out of it she doesn't remember much but she meets a wolf that she feels STRONG feelings for. Feelings she's only felt before she was pulled out of the ice.What does all this mean? Why does the sun seem closer than before? What are those marks on her body that she only dreamed of getting? And what is this connection she feels with a boy she doesn't know but remember from somewhere?When this boy, Adan, and Sara set fire to a photo booth and Adan saves her life continuously and disappears, nothing starts to make sense. And eighteen is only a few weeks away and Sara ain't seen trouble yet.Adan.I LOVED Adan. His trust, his love, his cockiness, his sense of humour, his eyes and his intensity. He plays such an important role in this book that without him the book wouldn't exist and neither would Sara. The occasional switch in POV's was interesting rather than distracting and added to the mystery and magic of the story. I love his 'other side' too and how he could be cocky and obnoxious and yet lovable and caring and kind.The romance in the book is off the charts an I loved it. I've been looking for this kind of book since...FOREVER! True story.FIVE stars! And then some.

Strong start to a fun, innovative, new seriesHere we go!! I've been looking forward to this series for over a year ever since I read a brief blurb in the back of one of Shelly Crane's fantastic books.Ok, so Flutter is a nice, shiny example of what I like about the YA Paranormal genre: strong heroine/hero, fascinating paranormal characters and abilities that I'd never seen before, action, romance, mystery and it's clean! This story starts at warp speed and doesn't let go of your heart even after you've read the last page.Flutter immediately clutches your heart with our heroine waking up to discover she's buried in...ice. Talk about scary. Once she gets out, with some magical help of course, the action doesn't stop until she gets home where she tries to put the puzzle pieces of her life back together again. But everything's changed. I mean, she woke up encapsulated in ICE! Now, she's training in Muay Thai, Kickboxing, cardio, etc. but no one will tell her why. Her best friend and boyfriend aren't part of her new world, so who can she trust? Oh, and there's this new guy, Adan, who causes lightening-like pulses to run over her skin when he gets close, and he can read her thoughts. Adan is everything you want in a hero, while still being young enough to not have all the answers which keeps him on the same level as Sara. Sara is amazing, a loyal friend, an honest girlfriend, and strong. Can't wait to see Sara and Adan grow together and within their individual responsibilities as the series continues.This is a high quality tale, but there are several misused words, but I've talked to Ms. Andrea, and she's working hard to ensure its 100% perfect. She loves to hear from readers. Bonus? One of my favorite places in the world, Havasupai, is featured in this book.To me, this book is similar to: the Significance series, River of Time series, portions of Mortal Instruments series. Go buy this book!!

Wow... I haven't read a decent book about shapeshifters in a long time. I had no idea which branch of paranormal lore Flutter would encompass when I began reading it, but I have to say that I was pleasantly surprised. I admit that I chose to read it almost solely based on the cover and the fact that it was in the Paranormal genre. The plot moves at a very fast pace, which I greatly appreciate, and the characters face ample amounts of drama, which engages the reader and makes them develop attachments towards the characters. Adan and Sara's interactions with each other include fire hot chemistry, moments of sweet affection, and sheer adoration for the other. The only reason I'm not giving Flutter a 5 star review is due to the grammar mistakes and the tiny bit of confusion that I felt at the end. In my opinion, when creating a new world an author should take care to develop it fully in the first novel, instead of throwing in all the details at the end and closing with a cliffhanger. Don't get me wrong, I like Melissa's original interpretation of this type of lore, but I wish she hadn't waited until the very end to make it epic. Despite that, Melissa has created a new dynamic for the Paranormal genre, and I'm looking forward to finding out what happens next.Flutter is a must-read.

It has taken me awhile to find the perfect way to word this review. Let me start by saying that Adan is NOT the star of this book. That honor belongs to the beautiful Sara. Her beauty runs way deeper than her shimmering skin, all the way to her heart that was breaking by the end of the book. Melissa told a story here that was at times exciting, at times heart breaking and at all times, riveting. Thus is one of the best stories I have ever read, and I can't wait until the next book comes out.Thank you, Melissa, for blessing us with your gift. I will forever be a loyal fan

The book opens with a young Sara, the Princess of her land, being taken from her parents as they prepare to be murdered. Instantly, the reader is set up to know that there is a bigger picture here. We know that we will be taken on a wild ride to discover what the heck is going on. We are given very little information about the how and why of her parents murder. Just that 'they' are after the Princess for her powers. Ohhh…I wanna know why!By the next chapter our little Princess is all grown up and frozen in a body of water. Her hottie/wolf/ Prince Adan is searching for her. Why? We don't know yet. The author seamlessly takes us through her panic and claustrophobia with just enough panic and dark humor to let me know that Sara is a girl I can love. Honestly, I was laughing out loud at some of Sara's inner monologue with "Other Sara".Sara obviously escapes her ice prison (wouldn't be much of a book if she didn't ehh?). We follow her and her watcher/uncle Andres through the woods. They encounter a series of amnesia induced (caused by being frozen) mishaps. Don't worry the wolf/prince saves her! As you can tell by the slashes littered throughout my character description, each character has more than one face that they take off and put on as needed. Other than Sara, who has no she is a Princess. And no this is not a product of her amnesia. Her watcher has kept this info from her all her life.The characters are the right amount of complex. Not too complex that the story gets bogged down by trying to figure out which face they are going to wear from moment to moment. Just complex enough to keep the reader engaged. Each character, main and minor alike, is all given a sense of humor and every one seems to have an actual place in the story. No random filler characters here.The author's voice is the strongest when she is writing the scenes between Adan and Sara. The chemistry between the two literally jumps off the page. It's hard not to get drawn in and fall in love with Adan. The bad boy/good guy. He could be all alpha hotness (hello, wolf) but he's not over kill. He has that uber cool, sexy, sarcastic, hot, dangerous vibe without feeling threatening to the heroine. Awesome stuff, considering this is very firmly a young adult book. The kissing scenes are intense but the author stays on the YA side of the line. While the future books may, and very obviously can, venture into "new adult" Flutter is safe for younger readers.The ending was great. It was just enough of cliff hanger to make me want more but not so much so that I was unhappy and mad that the author left me hanging like that. Nevermind…she left me hanging like that. BOOK 2 where are yoooouuuuuu?My only real criticism is that there is a lull in the book. It's very short. It was a chapter where I thought (much like Sara) "ahh am I ever going to figure out what is happening her." Alas, it's a series I will have to wait for some of my answers….As a reviewer, I review on content alone. Spelling, editing and formatting errors never effect my overall rating score. I do this for both indie and traditionally published books. However, I would be remiss if I didn't mention that my copy had editing errors in it. Well the first half. I downloaded the older version…there is a newer updated version that is a lot cleaner (which the author sent to me! Thanks!). It was nothing so serious that it took away from this ROCKING story. Mostly it was consistency errors, which we all know are easy to make. An example: the author switches back from using "My Wolf" to "my wolf" throughout.This book has saturated my facebook profile. My personal and blog pages have been Flutter'd since the end of August. Look at that cover how could I not beg her to give me a copy (which I did)? I was impressed that it held up the hype. It is every bit as good as the cover suggests. This is another case of I WANT the second book NOW!

I was introduced to Flutter about a year or so ago when I read the first chapter or 2 for Andrea while she was writing it. Fast-forward to present day time and the whole book is done and available for sale.The book started off fairly strong and I just loved how it opened. We meet Sara, Adan and Andres…each giving us their take in the beginning. I love the chemistry between Sara and Adan, it is definitely undeniable. They really clicked and you can't help but smile when they are together and interacting.Then came the middle-ish part of the book. After Sara is back home there was quite a lull for me in the book. And in my opinion, Flutter, had a little too much unnecessary detail to it. In fact, I thought it would have been better to cut out some of the fat making it a bit shorter book. One other thing was how Sara kept things to herself and did not confide in someone about all the crazy going on in her life. Yeah, I understand she was scared she would get more 'I'm sorrys' from everyone with no explanations. But really, the things she kept from her uncle was sort of out there and needed to be told. This made her not a very likable character for me. But then we get to the ending of the book and that is where it got good…like really good. Things start getting revealed, lives are thrown off balance, dreams become real life…shiz got real! The supernatural aspect is beyond different from anything I have read. I won't say all it entails but it's good and it's different and I need to know what the future holds for these fantabulous characters. Like my sweet, dear Adan for instance. Gosh I just adored the flip out of him.**Also I will note that I found A LOT of grammar issues with the book. Lots of misspelled words or words that were not edited out that should have been. I even think the one I read was an updated version. So hopefully Andrea will go back through again and edit it once more.

The sad thing about this book is that it had so much potential. I loved the first couple of chapters (ultimately being the reason I went ahead and purchase the book) but after that, things just got confusing. Our main character is left in the dark about a lot of things until the very end of the book, meaning that we, the readers, are also left in the dark for that long. Little things were explained but nothing ever really made sense. I didn't understand Adan's role in the book. Sadly, I felt like the author just went from scene to scene adding in romantic interludes. The plot floundered helplessly behind all the love interests and it just never recovered. Please don't get me wrong. I love a little banter and a good romance. This, however, was overboard and quickly had me wishing I hadn't bought this book. Sara was a little immature and Adan was a bit desperate and their back and forth drama had me hitting my head against the wall. Yes, I want you...no, I don't. Make up your stinking mind!!!! Okay...now onto the bad guys. I understand suspense and keeping your readers guessing but this was ridiculous!! You've got to give your audience enough to go on or they'll be uninterested. I didn't understand what the bad guys were until the very end. Needless to say, we have no idea why or what they are the whole book!! So frustrating!!Once again, I restate my original thought. This was an amazing concept with very poor execution. It's the kind of book that begs to be rewritten by someone with a little more vision than an overdone romance. Sorry to be so harsh but I felt disappointed after all the hype. Better luck next time Melissa, however, I won't be buying the sequel.

Ok, so we open to a pretty dramatic scene- a crumbling kingdom, bad guys literally at the door, and parents sacrificing themselves for their only child. Queue time jump to present day, where Sara awakes to find herself literally buried with confusing secrets and things that shouldnt be possible. After a dramatic return to the world, she returns home with her 'watcher' and guardian Andres, but the secrets he is keeping build a wall between them, and in classic fairy tale fashion, this only allows the bad guys to get closer. Not to mention the confusing appearance of the swoon-worthy Adan, who's electric presence feels a little too familiar, and who is keeping a whole bunch of secrets himself.To be honest, I'm kind of stuck with this one. I do love Sara- she's funny and feisty and although she seems to have a habit of fainting or falling asleep conveniently, she doesnt seem like your average damsel in distress. Adan is a babe- you sometimes find with these 'one and only' couples that they become a little too absorbed in each other, and spend the whole time trying to sacrifice themselves for each other, needlessly pining over each other, or making themselves miserable in order to misguidedly save their love. I loved that their relationship remained full of flirting and light-hearted banter despite the slightly heavier moments between them. I slightly struggled with the idea of him being almost 20 and her being 18, not because of the age difference, but because at times i felt like they were acting a lot younger- how long they wait for their first kiss, the kind of party she has etc.I think the thing that i found hardest to believe was how much Sara was kept in the dark for nearly the whole book. There are quite literally mountains of unanswered questions that she doesn't push herself to try an figure out- not her connection to Adan, not her abilities, not what Andres is hiding, not about 'her wolf'... the list goes on. While she does make it clear to Andres that she isnt happy about being kept in the dark, i think it would have been more believable if she'd actually gone out of her way to try and answer the questions herself.I think that the paranormal aspect of the book was original and interesting, but again, i wanted more of a clear explanation even if it was just for the reader's benefit... i found the opening scene confusing, and i was left with a slightly unsatisfied feeling when the questions were only partially answered at the end. I think that the highlight of the book was Adan and Sara's relationship. For the rest of it, i just wanted a little more continuity and clarity. Plus i sometimes felt like Sara was massively missing the obvious which was slightly annoying.Overall an enjoyable read, and i am interested to see how the series continues- i seriously cant wait for a little more Sara/Adan scenes, and getting some answers to my remaining questions SPOLIER:[like who the fuck is this counsel and why do they get to keep everything from everyone, and why is Adan's mother such a bitch?]

Nice start to a series.The premise of having a dragonfly princess as a heroine is quite intriguing, really. Well, we can't see her transforming yet in here but I am so excited about that. The story was very good. There were a lot of action parts and lots of sweet moments. It was also kind of frustrating, the way the hero and heroine interact with each other because they were both fighting what they feel as first (view spoiler)[ AND IN THE END (hide spoiler)]. There were also a lot of internal monologues wherein they would describe each other IN DETAIL. Yea, I guess I got tired of reading them and I just skimmed through some of them, but yeah, if you like detailed descriptions of a character, this book has it. Adan's pov's are something to look forward to because to me, he was sort of sweet especially when he's jealous! haha! I swear, I got to laugh a lot with his protective instincts. The fact that they were MFEO (MADE FOR EACH OTHER) is cool and comes in handy for the both of them. Even though the conflict in the end made them part ways, I'm sure that the author will give us a great get together scene next year. I still don't understand the dynamics of their paranormal universe in here. There are a lot of things left unanswered. I hope that the next book will shed some light. All in all, this one's a good read indeed. ;p

So, I was so hype For flutter all quotes, and all the expert,and being part of the street team, and exclusive, Stuff I have to say I love flutter it live up to the hype, and the cover is gorgeous, Flutter Start with action from the Prologue, I had on my Read to text and i was cleaning, my house I had to stop and read the words while it read along... I was in awwww and OMG, Sara is put in ice to save her life from the hunter, he trying to kill her and her famly. For 16yer Sara been in ice, it time for Sara to came out and take her placed, for her people, but she don't no who she is yet, what she is, but she can feel Adan, even in ice and he can feel her.All I'm say is I love Adan is so raw, you no he love Sara.Flutter is very different and good it kept, me wanting to read all nite to get done. I really enjoy it and the end was sad I hope book 2 is out very soon ..All I"m say is a must read Melissa Andrea, is a up comeing Author you should look out for flutter and up comeing books flutter will blow your mind .

The book was alright. It had potential and by the cover, I was fooled completely. I guess I should follow the saying of "don't judge a book by it's cover" cause this one had a pretty cover but the story was like a jumbled blob of thesaurus words. Honestly, with all of the hype that was on Facebook, you would think that the book would live up to the cover... but it didn't. I guess I can give her props for at least finishing and writing a book. Not all people can do that, although it isn't impossible.And I found Sara to be a bit annoying. She really frustrated me. The editing in this book was.... I don't even know what to say. It wasn't good and seemed really amateur. I just don't think that this book would be good for teens because of the larger words. They would get confused. It's supposed to be YA, right?But I will say that Adan was a dream boy... a bit cocky at first but he was okay with me. Not sure if he made the cut for book boyfriends though.I do agree with another reviewer that there were a ton of unanswered questions and it pissed me off cause I thought I would get them sometime in but I didn't. It bothered me. There were a lot of things about the book I didn't like but I guess the main thing was the hype. It didn't live up to what I'd expected-- but we all have our expectations. Mine are just VERY high and I don't understand how someone can be a dragonfly...? Just doesn't really seem okay with me. A fairy, yeah? But a bug... yuck.But I will read the next book. Hopefully I find answers that will make the book worth while and hopefully some of the grammar is used correctly next time around. Some words just didn't go... certain parts did too much for me.At the end of the day, this is far from a 5 star book. I understand the great amount of effort authors put into their books but this one I just couldn't connect with. If anything, the highest number of stars for it is really 3... and the 3 says it's okay.. but I fell a little beneath the 3 and went for about a 2.2 in the star area.

Outstanding! I really can't express how much I loved this book. When I first saw the first teasers to Flutter when the book was just coming together I had a feeling that this book was going to be a success. And I was right! Not only is the storyline something I had never read before, but the characters are refreshing and new. Sara, one of the main characters in Flutter is an amazing character. She is loyal, funny, witty, compassionate, and is a very talented, you feel in awe of her throughout the book. Let's not forget the amazing Adan!! I seriously fell in love with Adan's character. Handsome, funny, passionate, and out spoken. He really made you stop and take notice of him. Such a perfect character always made me smile. I spent so many hours laughing and even shedding a few tears with this book and I really can't say enough about it. If you have doubt on whether to read Flutter or not, trust me you need to give this book a try and see the amazing and unique world the author Melissa Andrea has made. She is a wonderful author and her words create hours of enjoyment and entertainment. I can't wait until the next book in the series comes out. I know it will be just as amazing as the last. Here are some of my favorite quotes in Flutter: "I'll always find you Sara.""You're so much more than any of that, you're extraordinary all on your own.""Believe in yourself the way I do.""I think there is a chorus to a song out there somewhere dedicated to us Spitfire." Adan said. "Let's set this world on fire Sara. We will definitely burn brighter than the sun."

This was one of those books that the anticipation was building and building and then it was finally here... and... it was so worth the wait!I loved how different this book was. It wasn't about vampires or werewolves or angels or demons, it was a whole other magical world. One that I can't wait to learn more about. By the end of the book, you were screaming for more answers; there just wasn't enough!!!The prologue itself was beautifully written and I loved it as an introduction to the book. I loved the "flutter", the characters, the intensity of the beginning. Where most books have their climax near the end, I felt this one's was at the beginning. Again, so cool and different. That doesn't mean the book spiraled down from the beginning, oh no. There was still so much to learn and expect in the rest of this book.

I have been reading about this book its seems like FOREVER!! And I could not wait for it to be released I snatched it up the first day and read it so fast, I couldn't put it down it seemed. I think the price was good I wasn't disappointed after I finished so all in all I didn't mind what I spent :) I will Recommend this book to others. Hopefully you like it as much as i did and i cannot wait for the next! Happy reading all!

Lovely book :) I am glad I was part of this book before the release!! I love the cover!! I loved how it started...and how it progreesed!! new concept,new characters and ADAN is SOOO HOT!!! I loved his POV too!! so I am eagerly waiting for the second book.

I enjoyed the book, but it was hard to get in to. The mistakes and wrong words were very confusing. There were numerous grammatical and spelling mistakes also.I will probably read the next one, if someone edits the book correctly.

I couldn't finish this one.I'm shocked at all the high ratings, maybe I'm just not getting it.I was completely confused at times.The story was tooooooo wordy and boring.I'm not even going to delve into the grammatical errors.

This was a great book. I really liked how Melissa's writing gets you lost in the book, like you are right there with them. I definitely had a book hangover after reading it. Keep up the great work.

Wow. What a Synopsis! I want to read!!!

Loved the story line and loved seeing how Sara an Adans story played out!! I was sad when it ended and can't wait for the next installment!!!

LOVED IT! Review to come.

2.5 Star Rating.I wondered if I would ever again have a single thought that didn't ultimately end with her.She was my curse.In the acknowledgements at the end of the book, Andrea thanks her friend Lilly for her editing help. Now, you will notice that the spelling, wording, and punctuation used in the acknowledgements is actually far better than the rest of the book. Why is that? I actually wondered--and had to check--if English was a secondary language to Melissa. That's how bad this book is.Here, hear, their, there, they're, your, you're, to, too, then, than were, and we're, were common problem areas. You will notice in the book description, 'too' was used instead of 'to'. See, seem, and seen, were also, surprisingly, troubled areas.Guy seemed to be confused for gut...and I suppose that could be explained away as a typo; however, that was one of three or more errors on a single page. This book was riddled with spelling errors.To be honest, I'm not convinced Melissa ever read this book before deciding she should publish it. For future reference Melissa, you really should. Spellcheck does not work for when a word is spelled correctly, but misplaced; as noted with 'gut' and 'guy'.I was going to get nit picky with lava being a liquid, however, I suppose, depending on what it is doing, it could be a solid or a gas too.This was a rather unique story line that really could have gone somewhere. It wasn't terrible, in fact, at times I was completely engrossed. The romance was incredibly redundant, and this book ultimately had very little progress from the beginning to the end.The sense of time felt off at times. Some of the scenes seemed to take maybe 2 hours of a day, but somehow ended up being a whole day, just because.There were a lot of contradictions. One of the most notable was when Sara was complaining of having no energy. She claimed she couldn't even make her bed but then, immediately, went out to run for miles with Andres and then have a session of Mauy Thai, which is extremely vigorous. How does that correspond with being weak as a newborn, exactly?The character development really needed some tuning up. In the case of Scott--the boyfriend; who came from where exactly?--it was non-existent. He was just kind of thrown out as an after thought to put a damper on things between Sara and Adan. Come to find out, this character really did exist in the story. I was a bit thrown by this development, as well as a few others throughout the book, because it seemed to me that there were a few inconsistencies with how this book was being delivered. There was an over abundance of information, plot and character development from when Sara and Andres emerge from the ice. This goes on for a great portion of the book. And then all of a sudden, you get a slapped together, half story with little to no plot or character development for the senseless side drama that is Sara and Scott. You get a half assed understanding of what is going on with Sara, what her responsibilities are now, and no understanding of what the rules surrounding her and Adan are in place for, or even what they are. Yet, you get an overly dramatic prologue that tells you next to nothing about what to expect from this book. The epilogue was rushed and really did not shed light on what to really expect from the next book, except some more redundant romance. I don't know that I can go through that again. Everything I learned about Sara in this book was terrible. She was a liar, immoral, selfish, cowardly, hypocritical, senseless, irrational, idiotic, and temperamental. I could understand her reactions to how she was being treated, and even agreed with them at times. But I just couldn't get over, or justify, how she was handling her own affairs. I really wish things with Scott would have gone differently. She didn't deserve the route he took. He should have humiliated her in front of everyone. She deserved nothing less.Sara also had a problem with being able to breathe. It became cheesy, and then dreadful. These scenes between Sara and Adan were also made boring by how often they occurred without progression, and how drawn out they were without progression. How many times did it need to be said that there was a connection between Sara and Adan, or Sara and Her Wolf? Really? Get on with it.Oh and my personal favourite. What, may I ask, is innovatory?...Here's your answer:EnglishAdjectiveinnovatory (comparative more innovatory, superlative most innovatory)Producing new ideas or products I believe, the right word you were looking for, was inventory.Oh, and as for the time spinner...what is that? There really needed to be some time spent on making these things known to the reader, rather than just throwing things in there for random explanation. If you're going to introduce things, you need to have a good reason for it being there.

Normally I don't read the prologues of books because well I just don't but I found myself reading this one and crying like a baby, it's like I was there with Sara's parents feeling what they were feeling, going through what they were going through. I thought it weird Adan knew Sara when she was a baby, but then I got to thinking that vampires don't age and stay the same so why couldn't Adan. (He's not a vampire FYI) I was disappointed at how little the Sara and Adan scenes were, but when there was one they were intense which made up for the lack of scenes. There was this one scene where Sara was egging on Adan using her boyfriend Scott and I had never laughed so hard at one time! I was desperately heartbroken finding out Adan had a fiancee' and I was furious how he led Sara on that way and didn't tell her about it, I mean shouldn't relationships be based on trust or something. THEN the book had the nerve to END without telling me what happens to Sara and Adan!! The nerve of some books I tell you!!! By the way if you can't tell by how much I LOVED the book with all the quote that I'm going to post I feel bad for that."Here I was with every single one of my nerves vibrating with life, hope, and that strongly familiar yearning that I was missing something. I hadn't expected my reaction to her to be even stronger, after all this time especially with the depths of thick solid ice separating us..." "Sara." He whispered my name in a trail down my throat "I know you feel that." His voice was urgent. "You can deny it with every sweet, intoxicating breath in your body, but I know dam well that you feel that..." "If that's the way you base your greetings, I can't wait to see the welcoming I get when I walk inside your bedroom." He laughed out loud when I blushed and leaned against the bookshelf facing me.""I'm always fighting for you, fighting to keep you, fighting to be with you, fighting for you. It's a fight every step of the way." "That was a hell of a kiss spitfire." He laughed when I blushed. "Are you trying to kill me?"

This book wasn't for me. The synopsis sounded interesting and the reviews weren't bad so I decided to go for it, I was so disappointed. I kept falling asleep while reading it, I've read books with less than two hours sleep in a 24 hour period and was wide awake so that showed me that this book was not grabbing my interest. The build up to Adan and Sara meeting was so long and drawn out and filled with boring unnecessary constant inner dialogues by the characters. (Oh yeah, there were POV's from a million people, okay fine more like three). The only character I didn't have too much of a problem hearing from was Adan, when he and Sara had any kind of interaction the story started to get a little exciting but it was just a teaser and then they were back to being in their head. I think it could have been better if it had more exciting apart times between Adan and Sara and not be so obvious about prolonging their ultimate face to face meeting. So many things were obvious in this book, of course things were kept form Sara, mostly who she really is and it was also very obvious to her but she kept saying stuff like "I will put that aside for later". I mean really, how many times can she put aside the obvious, these are the things that makes my cynical side rears it ugly head when it comes paranormal books, when a more creative way cannot be found to deal with the inevitable of the veil being lifted for the heroine/hero, don't make it so obvious that the inevitable is being prolonged. It took me a while to finish since I was going back and forth between other books and I kept getting sleepy reading it. It's obviously interesting for others but sorry to say it was just not for me.

FlutterBy : Melissa AndreaReviewed by : Krystal5 starsFirst I am going to start by saying that I waited what felt like FOREVER to get my hands on this book!!! In that time I became friends with Melissa and love her dearly. This is Melissa's debut novel and I think she created a beautiful tale! Well done girly!!! Now while Flutter is not my usual type of book I prefer to read, the cover first originally grabbed my attention and after befriending Melissa and being teased mercilessly for months I was drawn to Flutter like a moth to a flame. The story of Sara and Adan became something I needed like I need air to live. I find with the amount of reading that I do it's very hard to come across something completely original and utterly different but Melissa managed to deliver. Flutter is so completely one of a kind and I love it simply for that alone, but I love everything about else Flutter as well. The love between Adan & Sara. The passion they share, and the originality of what Sara really is. It is a long book but it's all a beautifully written tale. It's a modern day fairy-tale. It's not your Disney style fairly-tale but one for young adults and adults a like. Flutter is just the first installment of the Discover series and I feel we were given just enough answers to satisfy my curiosity and leaving me wanting more. So if your looking for something different and beautiful go on, pick up this book and Discover passion, Discover......... Flutter.

I got 33% through and it just couldn't maintain my attention. It seemed like it was dragging and all I had was a lot of confusion and NO ANSWERS. I don't necessarily mind that, but when nothing is clear it's like there's nothing to suck me in then, kwim? The prologue sucked me right in...I even enjoyed the in the head stuff when Sara's in the water (between Sara and Adan). But I found myself expecting something to happen at the end of the chapter, only to turn the page and have that something never addressed. So then I would start flipping ahead, looking for the explanation that wasn't there. Anyways, all in all, I can't give you feedback about the book since I gave up so early. But the editing truly was atrocious. It wasn't even small mistakes, it was JARRING mistakes that take you out of the mindset. It was the kind that if SOMEONE had read the book once, they would have been able to fix the mistake. I tolerate a lot of little mistakes, as someone who thoroughly enjoys independent authors who often can't afford editors. But seriously, read through your book once you finish it to just clean up the big glaring mistakes. So if that kind of thing bothers you a lot, I would steer clear...otherwise I hope you have more patience than me, b/c it sounds like there is payoff, I just don't have the patience to wait for it....